Located in the broader city center of Novi Sad, this spacious penthouse is under construction, poised to become the home of a young couple with unique taste and style. When they reached out to us, their vision for this penthouse was already clearly defined. Our task was to design an interior that exudes quality, aesthetics, and functionality.
This apartment spans an impressive 122 square meters, offering three bedrooms, two luxurious bathrooms, a powder room, a practical laundry room, a spacious living room, a modern kitchen, and an elegant office. In addition to the master bedroom, one of the rooms is arranged as a guest room with a fold-down bed, while the other will be transformed into a zen yoga oasis and home gym, with extra storage for seasonal items.
Designing this space was a true challenge due to the diverse preferences of our clients. The client is passionate about technology, machinery, automobiles, and industrial design, while the client is a lover of the Russian language, plants, yoga, books, and Mediterranean/French design.
Lighting played a crucial role in their lives, especially the ability to change the light color from warm to cool and connect it to a smart system.
The living room provides ample space for dining, relaxation by the fireplace, and reading books from the library. An elegant table for six, sparkling chandeliers as sculptures in the space, and golden details throughout create an atmosphere of elegance and comfort.
Around the modern fireplace, there is quartz with Carrara marble pattern that repeats throughout the apartment. There are also a sofa and armchairs for relaxation, ideal for watching movies, which the clients often do in their free time. Various height tables easily adapt to different needs.
In the entrance hall, we demonstrate that good design can transform even the most challenging spaces into a visual delight. The narrow frontal wall has become a wall sculpture concealing an elevator leading to the spacious terrace above.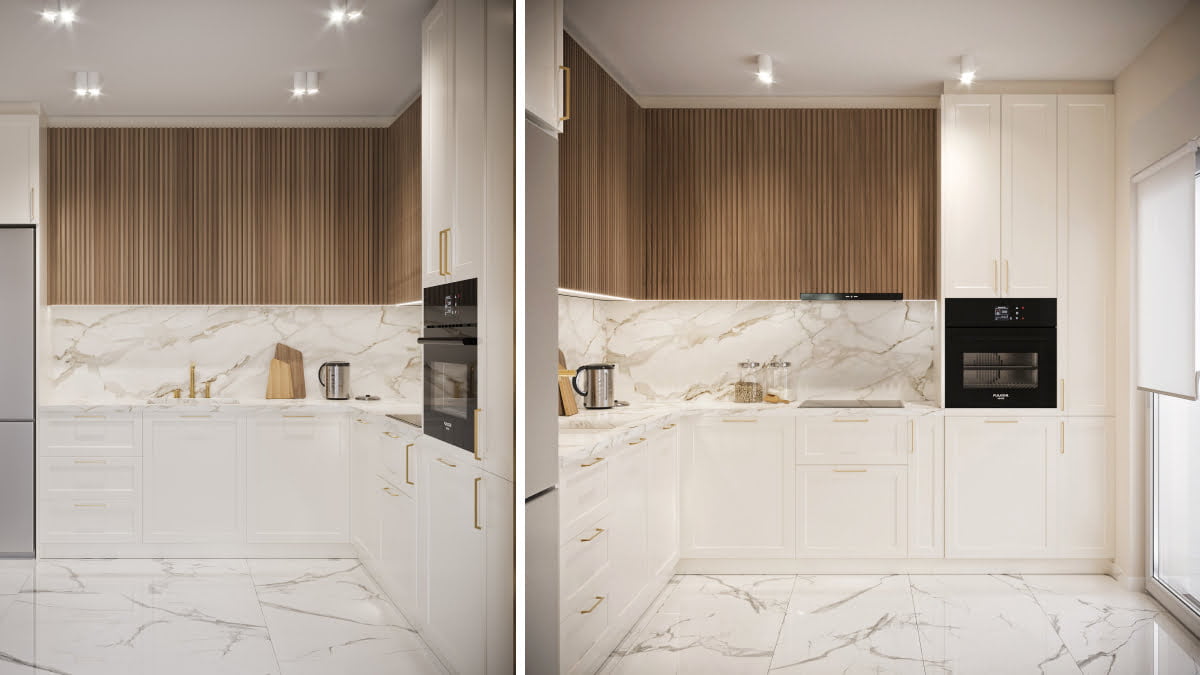 The kitchen combines white lower cabinets with elegant profiling and upper cabinets with wooden fronts. On the opposite side of the kitchen, you'll find the Barista Corner, a corner dedicated to making fresh coffee and juices.
The bathrooms are bright and modern, with tiles that add unique details. The powder room features geometric tiles that bring vibrancy to the space, while the bathrooms are adorned with decorative 3D relief tiles with a floral design.
The guest room offers storage space and a fold-down bed from the closet for guests. The yoga room is refreshed with plants and wallpaper featuring a floral design. A mirror on one wall and indirect lighting create a serene atmosphere for exercise.
The office, reserved for the client, contrasts with dark colors and modern design. Dark walls and wooden textures contribute to a professional yet inspiring workspace.
This penthouse, with its blend of modern elements and Parisian chic, has become a haven for relaxation and inspiration, perfectly tailored to clients needs and desires.