Clients with whom we've previously collaborated on their apartment renovation have contacted us once again, this time with a request to redesign their apartment in Divčibare. When we joined this project, the building itself was already constructed, which meant that we couldn't make significant changes to the interior space. Our role was to adapt to the existing concept. The clients are a four/member family, parents and two sons, and they expressed a desire for us to create a space that reflects traditional mountain style but in a modern interpretation.
The apartment is double/oriented with french windows that offer a splendid view of nature and the surroundings. Besides connecting the interior with the environment, these windows are crucial for the layout of the space as they significantly impact the organization. The apartment consists of an entrance hall, a daily bathroom, a living room with a kitchen and dining area, a master bedroom with a walk-in closet, a children's room, a shared bathroom, and a terrace.
To achieve the desired atmosphere, we decided on a combination of two natural materials typical for mountain houses – local stone and wood. The dining room wall, as well as the area around the fireplace and the bedrooms, is covered with stone. Other walls in the living room are clad with wood fronts and black stone for the worktop. 
The dining table is highlighted by a pendant chandelier, and the fireplace is the central element of the space. Next to the fireplace are doors leading to the sleeping area. The stone cladding near the dining table is adorned with a large painting by a local academic artist, introducing a mountain landscape under snow as the main motif. The living room contains a corner sofa and two armchairs, with coffee tables that adapt to the needs. Rugs, curtains, and the painting bring color and softness to the space. 
The living room has access to the terrace. The hallway offers plenty of space for clothing and shoes, as well as a space for drying clothes. The master bathroom features a jacuzzi and the same tiles as in the living room. The idea was to provide relaxation with maximum visual space enlargement. The master bedroom has an interestingly designed headboard that also serves as a partition between the room and wardrobe. Lighting was carefully chosen to create a relaxing atmosphere. Additionally, the master bedroom has its own access to the terrace.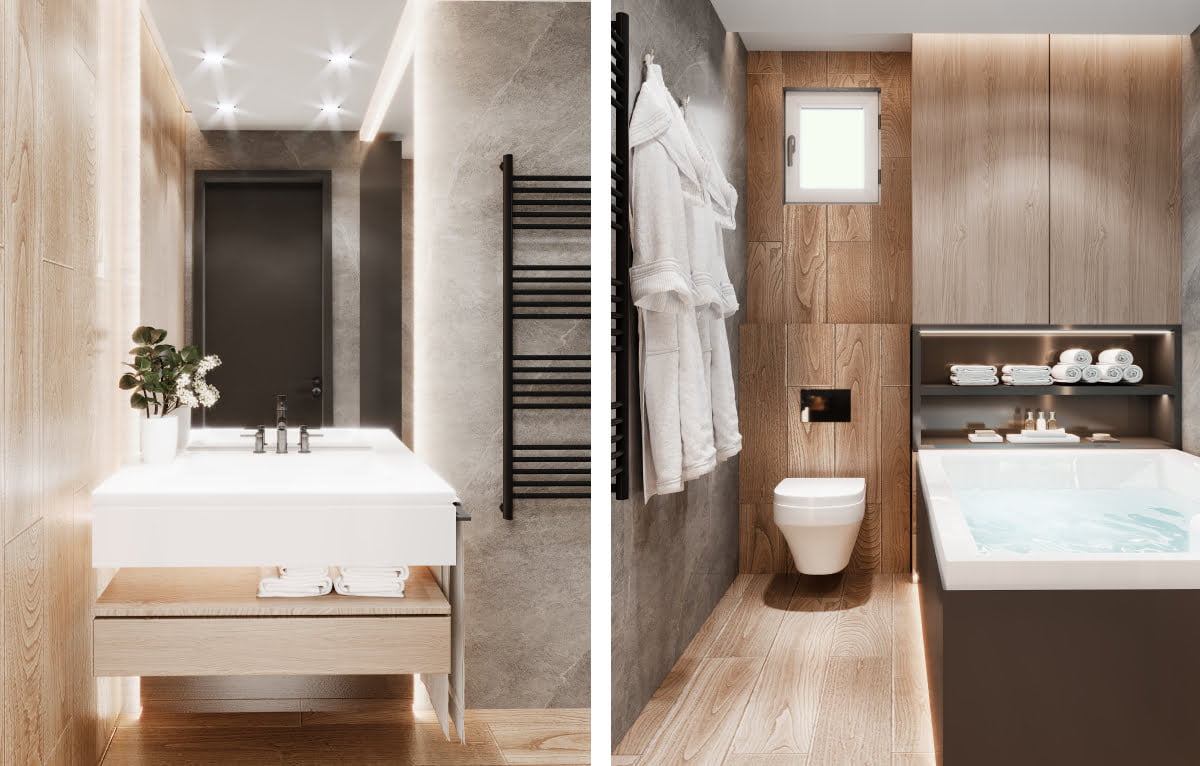 Both bathrooms have a modern design, with a special emphasis on lighting and practicality. The combination of tiles with wood texture and light neutral tiles makes them feel more spacious. Attention to detail contributes to the overall ambiance of the apartment.