The main goal of the project was to achieve harmony between the interior and exterior and connect them into one inseparable whole. By using natural textures of wood and ceramic tiles in neutral shades and warm tones, we created a functional and aesthetically appealing space that caters to the lifestyle of this five-member family.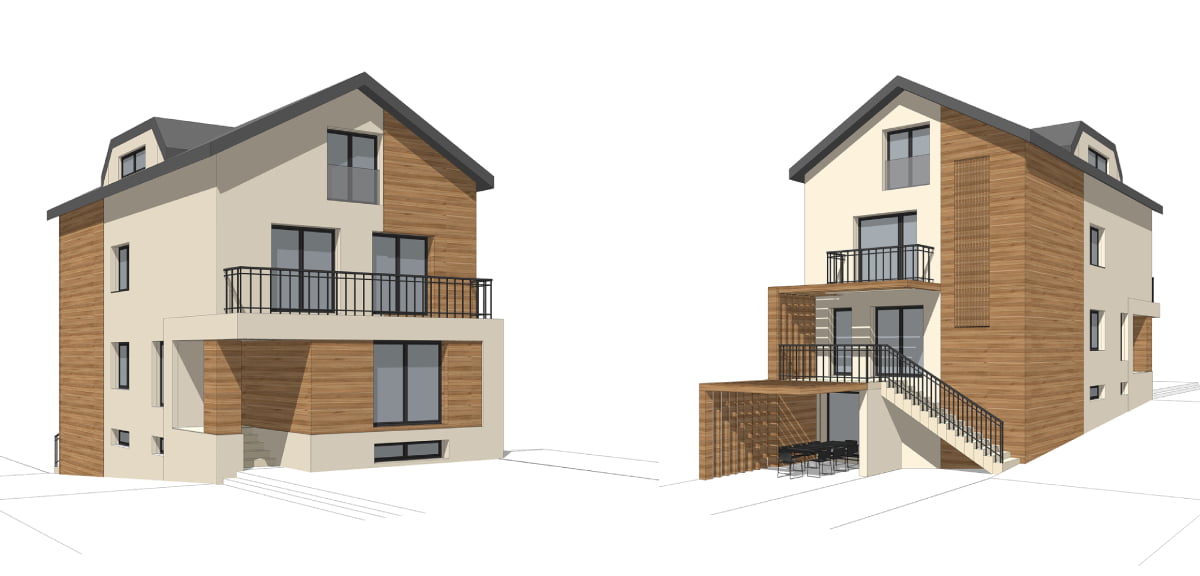 Our attention was particularly focused on renovating the living area. In order to maximize the amount of natural light entering this room intended for family gatherings and relaxation with a beautiful view of the surroundings, we expanded the windows. We installed large, modernly designed windows with internal platforms for sitting.
With white walls and furniture, as well as green-toned details, the living room has become an oasis for relaxation.
Our team was tasked with renovating the exterior of the house, with interventions that included changing the roof tiles, cladding part of the facade, and installing new windows.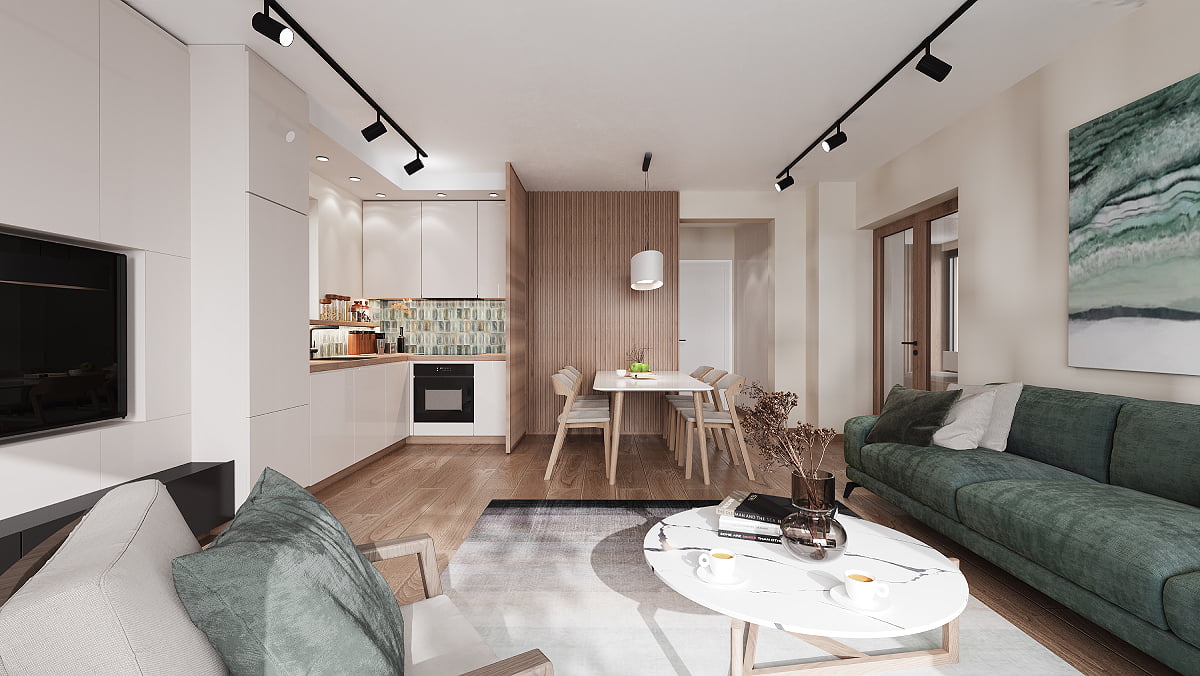 The entire concept involved designing the building and refreshing and modernizing the existing house with minimal interventions.
On the rear facade of the building, we formed pergolas that protect from sunlight, allowing our clients to enjoy the surroundings and the beautiful view of the Danube, nature, and the city undisturbed.
We designed the hallway to be simple and practical with functional elements that do not burden the space. There is a section for quick dressing, as well as a shoe rack, particularly suitable for larger families.
In the living room, a seating area was created for relaxation, and on the other side, an open and bright dining room and kitchen intended for the entire family. In the center of this combined space is a large window and a small sitting area that offers an incredible view of the surroundings, making it a central motif and dominant element in the room.
Opposite the relaxation area is a smaller kitchen for everyday use, while the larger, modern kitchen in the basement is intended for gathering friends and celebrations. This is the ideal place to rest after stressful workdays or for family gatherings and enjoying meals together.
Visually separated by a partition from the dining room, the kitchen is simply and neutrally decorated, while the tiles are striking and playful, giving the space a certain liveliness, creating an optimistic environment that remains connected to other parts of the house.
In the immediate vicinity of the living room, there is a bathroom with a spacious shower cabin, which is decorated in a minimalist style with selected light colors that fit perfectly into the interior, and a larger window allows more natural light.
This bathroom is the perfect solution for those looking for a quick refreshment or a relaxing shower after a hard day.
The second bathroom is also organized in accordance with the limitations of space and has plenty of storage space, with a built-in bathtub and modern decor style.