As experts in architecture on water, we were invited to participate in the project of organizing the coast of Perućac, to devise solutions that do not disturb the natural beauty of the area but rather blend harmoniously with the surrounding environment.
The first part of the project involved designing a marina with pathways and berths for 36 boats. The marina was to be equipped with connections for electricity, water, and showers. Additionally, a sturdy equipment hangar (for canoes, rowboats, and pedal boats) and restroom facilities were to be positioned along the coast.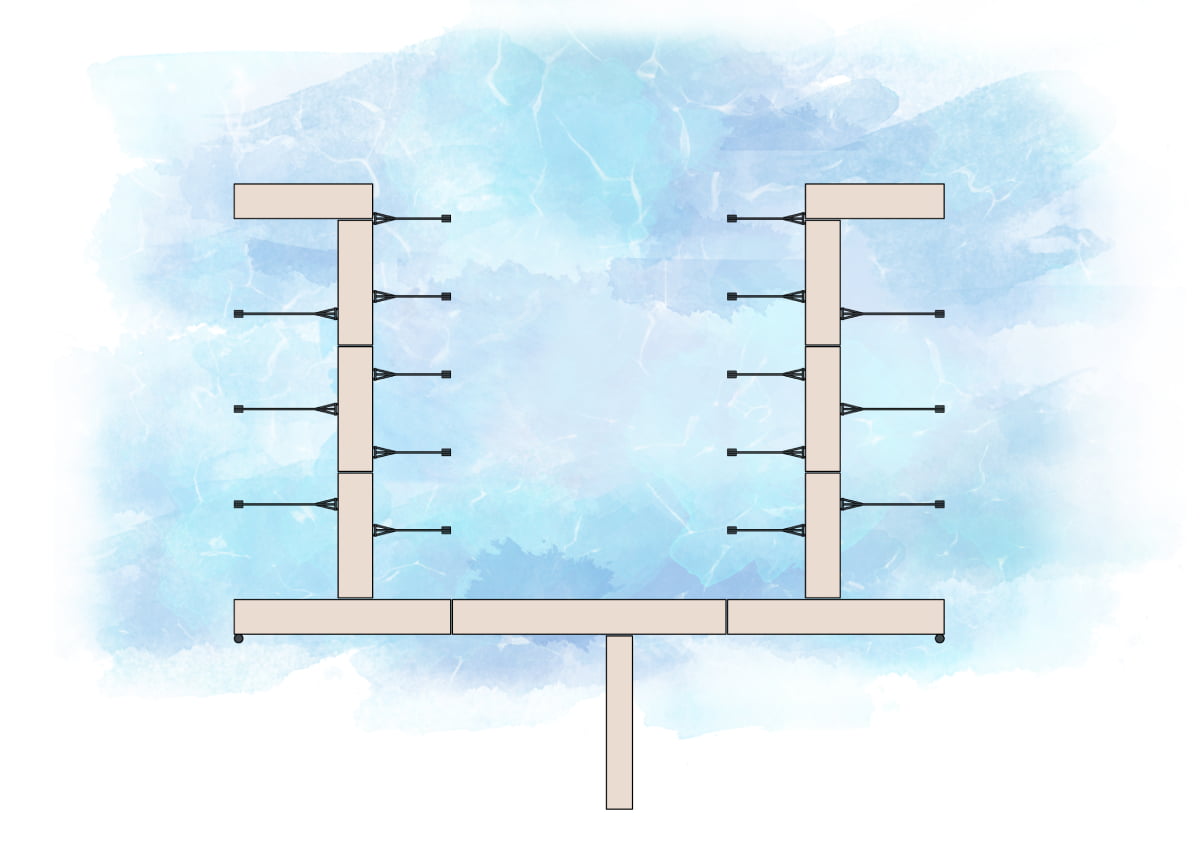 The second part of the task involved devising an entire typology of private floating objects and the rules they need to fulfill – concerning dimensions, mutual relationships, and their proximity to the shore.
Each floating object has a single level that rises 4 meters above the water's surface, with its roof utilized as a terrace to enjoy the natural surroundings fully.
We have designed three different types of floating objects – small, medium, and large. Their layout is carefully planned, with a minimum distance of 15 meters between each object to achieve a harmonious arrangement.
The arms of the marina closer to the shore are secured with fixed pillars, with at least one pillar on each side to provide stability and safety to the floating objects. There is enough space between two "piers" of the marina to accommodate two boats, allowing easy access to the water for an even greater enjoyment of the serene environment.
The smallest version of the floating object, covering an area of 40m2, includes a connected kitchen, dining area, and living room, as well as an open terrace facing the lake.
The facade of the floating objects features wooden-textured cladding and glass surfaces that blend with the environment. The sides facing the lake and the shore are mostly enclosed, while the opposite side is fully open.
The materials used, such as weather-resistant cladding with wooden textures and anthracite-colored exterior carpentry, contribute to seamlessly integrating the objects into the natural ambiance.
The medium-sized version of the floating object, with an area of 50m2, comprises a living room with a kitchen and dining area, a bathroom, and one bedroom.
The largest and most comfortable version of the floating object has a total area of 60m2. This object includes a kitchen with a dining area, a spacious living room, a comfortable bathroom, and even two bedrooms.
A distinctive feature on each of the floating cottages that capture attention is the circular-shaped windows facing the shore, delicately reminiscent of boat hull windows.