When it comes to yacht interior design, most people often overlook the importance of selecting the right textiles. They typically focus on aesthetics and texture while neglecting the functionality of the fabrics. From my experience, this lack of attention in this aspect can lead to unexpected issues.
Regardless of the fabric you choose, here are 5 must-knows about textiles that you should always keep in mind:
1. Durability of Chosen Material
When selecting fabrics for your yacht, you must consider the durability of the material. Many fabrics may look great at first glance, but they won't withstand the challenges of the marine environment. Sun, wind, and salt air can quickly damage fabrics. Have you chosen a fabric that can endure the open sea's challenges?
Advice: We recommend durable acrylic fabrics that retain their appearance and characteristics even in the face of harsh marine conditions.
2. Moisture Resistance
Special attention should be paid to the fabric's resistance to moisture, especially in the cabin below deck. Careless fabric choices can result in mold and unpleasant surfaces.
Advice: Using synthetic materials such as acrylic or polyester can prevent mold growth and ensure a comfortable environment. Regardless of the quality of the design, a high level of humidity can turn guest cabins into breeding grounds for unwanted microorganisms.
3. UV Protection
Your exterior spaces are enticing, but fabrics without UV protection will quickly fade under the influence of sunlight. Choose high-quality fabrics that will maintain their color and shine throughout your journeys.
Advice: Select high-quality fabrics like the renowned Sunbrella. These fabrics are resistant, do not lose their color due to UV radiation, and maintain their shine throughout numerous trips.
4. Stain Resistance
Practicality is key, especially in the dining area. Fabrics treated to be stain-resistant allow you to indulge without worries and maintain the brilliance of your space.
Advice: Choose fabrics treated to be stain-resistant. This simple choice guarantees that dirt will not diminish the brilliance of your space, allowing you to indulge without worry.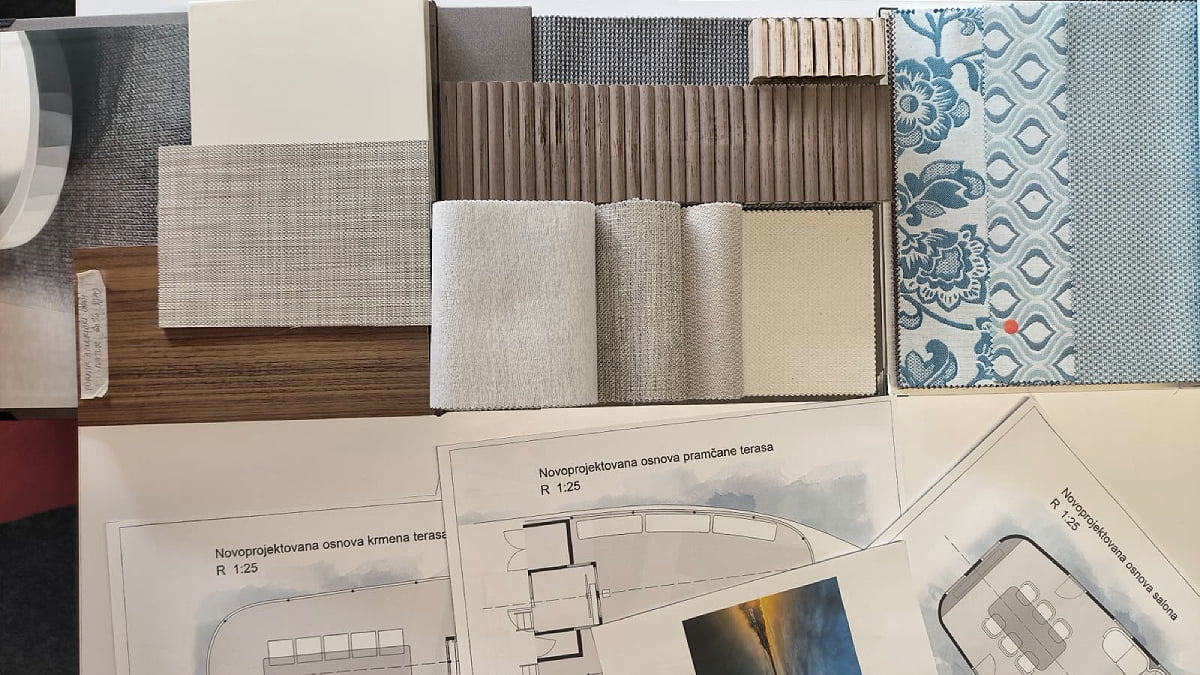 5. Comfort
Finally, let's focus on comfort. While durability is important, guests need to enjoy their time. Uncomfortable fabrics can diminish relaxation and the experience you aim to provide. Choose fabrics that add comfort, such as bedding with carefully selected characteristics for extra guest comfort.
Advice: Enhance the comfort of guest cabins with careful fabric selection. For example, when it comes to bedding, pay attention not only to design but also to the thread count in the sheets. This detail contributes to guests' tactile enjoyment, improving their experience during their stay on board.
By incorporating these 5 textile tips into your yacht's interior design, you embark on a journey that combines style, strength, and comfort. The result? An interior that surpasses beauty, conquers the challenges of the sea, and creates a luxury oasis that captivates and invites you to an extraordinary journey.
If you're ready to enhance your yacht's interior with perfect fabrics, don't hesitate to contact us. We'll gladly provide expert support in selecting the right textile materials for your yacht.
You can also read our previous blog on a Unlock the power of  yacht interior design with a holistic approach.