REDESIGN OF DECKS
Our main focus was to create a functional space.
We first concentrated on the decks, making sure that everything we planned could fit, and if there was any additional space we hadn't noticed during our visit to the boat, which we could utilize to enhance comfort during the journey.
We kept the original layout of the open decks. On the bow deck, we designed a seating area along the railing, while the central part remained empty and can be used for dancing, celebrations, and conversations. Towards the bow, we kept a space perfect for taking photographs.
One of the new additions is a furniture piece next to the helm, where drinks and food can be placed, adding extra functionality to this deck.
On the stern deck of riverboat, there is a table for ten people and a storage element for cutlery and dishes, which can be used for serving food.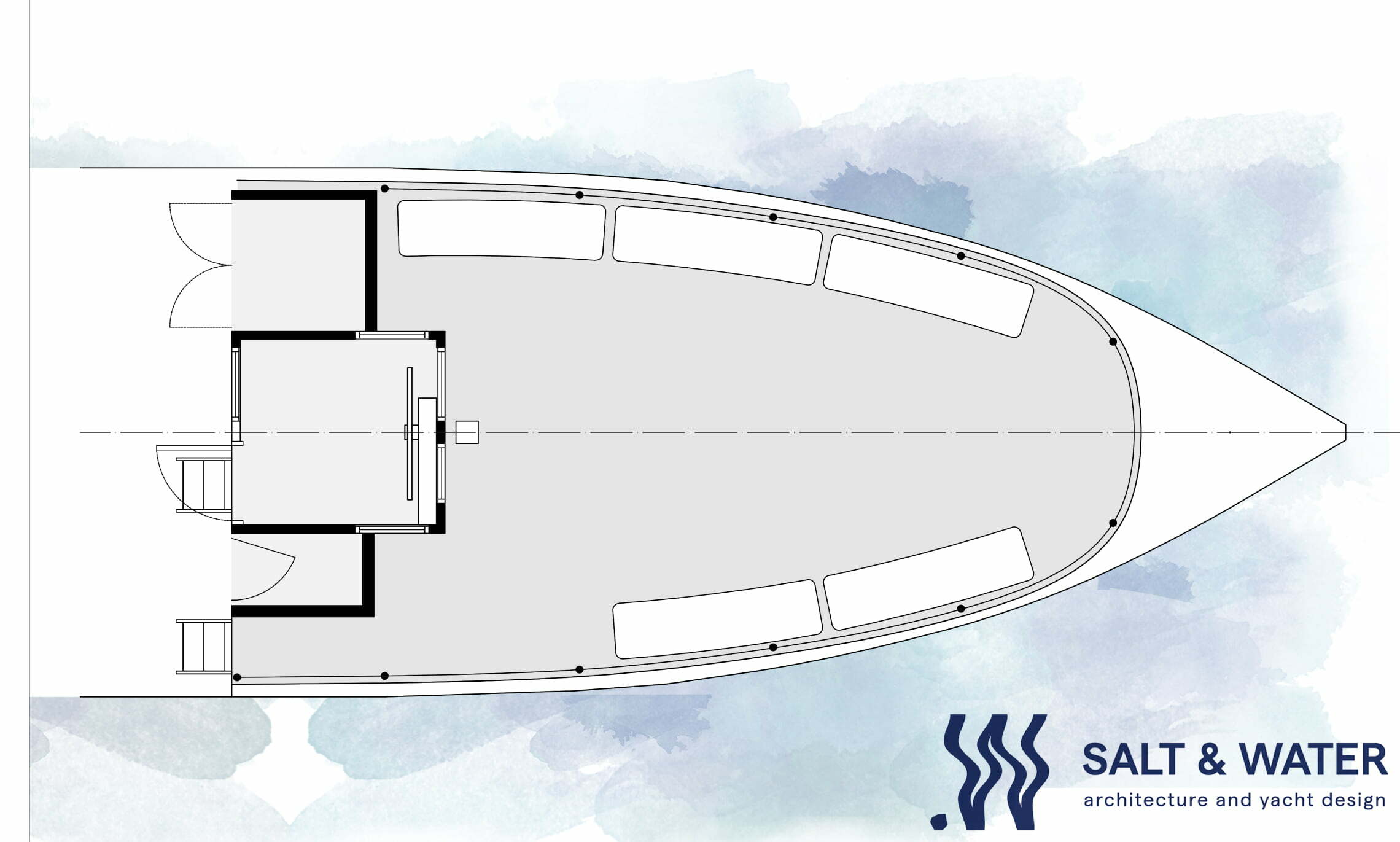 NEW LOOK OF THE BATHROOM
Boats have limited space, so bathroom dimensions were a challenge to make functional and beautiful.
By choosing contemporary materials resistant to river conditions, we managed to improve this part of the boat as well.
THE PROJECT OF THE NEW SALOON
The most significant changes were made to the saloon, which was completely redesigned. We removed unnecessary items, and the central part now features a table for six people that can be used as a meeting room and dining area.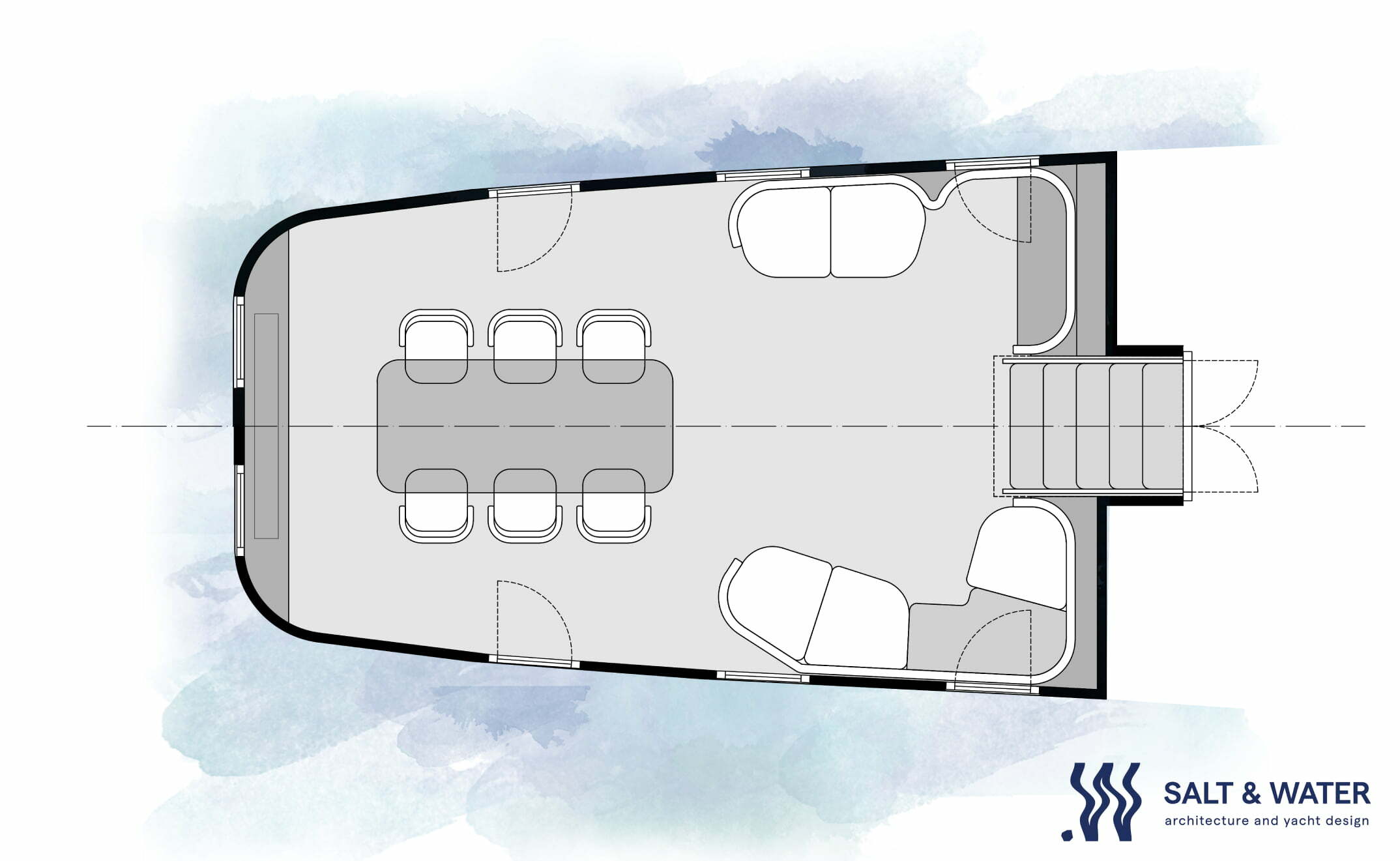 An integrated element at the stern hides a TV that can be lifted and used for presentations, and there is also a space with armchairs for more comfortable seating.
Near the entrance to the saloon, we placed a wine fridge, a glass shelf for glasses, and a built-in refrigerator.
While cleaning the hull from the existing furniture, we discovered some irregularities in the stern part of the floor. We decided to partially cover them with a step that also contributes to the width of the vessel, just as it was originally envisioned.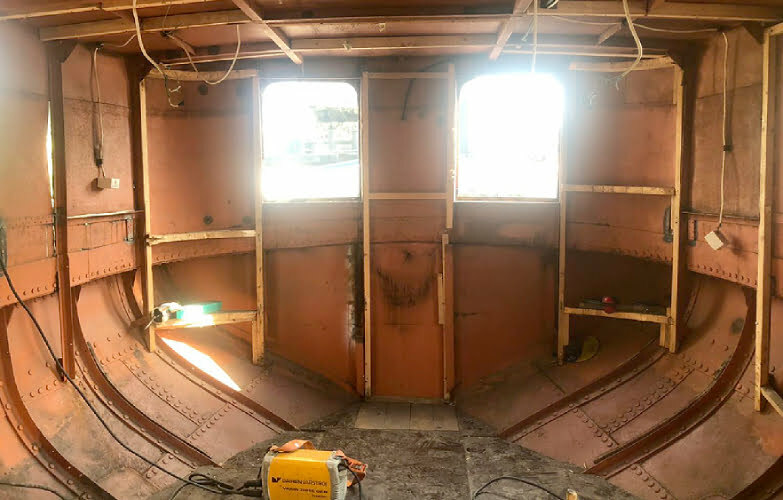 Thanks to the time we spent at the beginning of the project to fully understand the desires and needs of our clients, the proposed solution was adopted with minor modifications.
Now the most exciting part begins – turning the idea from paper into reality. More about it soon.