This spacious double-oriented apartment spans an impressive 105 square meters and has been meticulously designed to cater to its future occupants. With double orientation and predominantly glass walls, it offers an extraordinary sense of spaciousness and natural light.
The original room layout did not meet the clients' needs, so it was necessary to carefully consider how to improve the existing arrangement. The kitchen is cleverly organized to make the most of the available space, with all necessary appliances in the right places and a dining table for six people. The standout feature is the uniquely geometric tiles that added a magical look to the space. The upper elements are white, while the lower ones are in a gentle salmon color.
The living room is designed in a way that the television does not obstruct the magnificent view of Petrovaradin Fortress, which is a remarkable feature of this apartment. Functionality was key, so the entire space was designed to be comfortable for living and working.
The living room flows seamlessly into the dining area, then continues into the kitchen and terrace. The dining table is designed to visually maintain the spaciousness of the area and not distract attention. Additional elements like a glass display cabinet for porcelain dishes add a personal touch to the space. The clients also wanted to add some color to the neutral palette, including dusty pink and burgundy as accents. Interior lighting and metallic details are in a rose gold finish.
Double curtains in shades of salmon and coffee soften the space and direct the view towards the outdoor landscape. Artwork on the wall adds dynamism to the space, while travertine on the walls creates warmth with indirect lighting.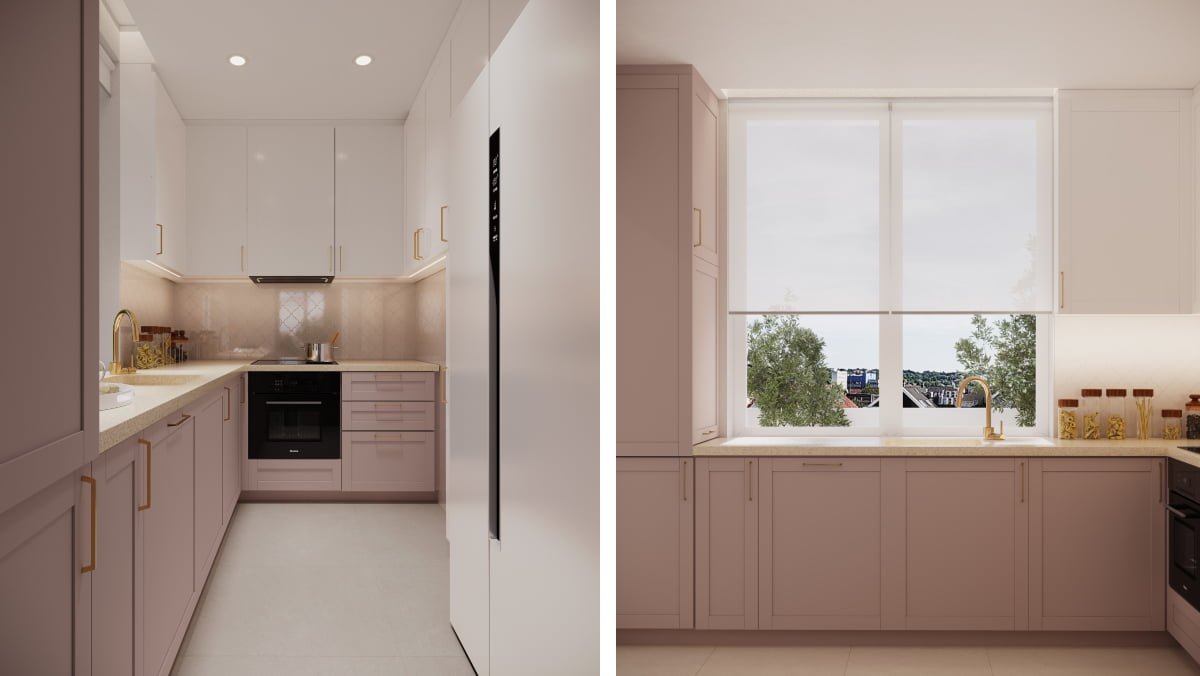 In the master bathroom, there is a concealed space for laundry, all designed to maximize space utilization. The second bathroom features a shower cabin with a simple and modern design.
The master bedroom includes a walk-in wardrobe with a separate section for him and her. This apartment also has two children's bedrooms. The boy's room required a specific area for book storage and was refreshed with a dark blue color, using existing furniture.
The girl's room is organized to provide ample space for studying, efficient wardrobe organization, including a mini walk-in closet, and is decorated in pink tones.
Overall, this apartment is a blend of functionality and aesthetics, providing a comfortable living space for its residents. A dream come true home.