When it comes to a modern family home on the periphery of Novi Sad, every corner and every element must align with the family's needs and style. Our team had the privilege of being involved in this project from the very beginning, allowing us to create a space of contemporary design with a neutral palette of cooler tones. This family consists of parents and two boys aged 6 and 8, and they wanted a modern, elegant home.
The house spans on two levels. On the ground floor, there's the living area, a large open space encompassing the living room, dining area, and a modern kitchen. This level is bathed in natural light, and a staircase leads to the upper level.
On the upper level, the parents have their private bedroom with a workspace, spacious wardrobe, and an ensuite bathroom. There are also two children's rooms that share a common bathroom. 
We paid great attention to details to create a functional yet inspiring space. The spacious foyer provides ample storage for clothing and footwear, while open shelves with an intriguing design make this space captivating.
The staircase is visually separated from the living area, and the columns are treated with a special technique that adds character. The living room is designed with large glass openings that overlook the yard, creating warmth and a connection with nature.
The kitchen is modern and minimalistic,  with an island serving as a workspace and a quick meal area. All the bathrooms in the house are decorated in neutral, light tones to visually enlarge the space and provide plenty of storage.
Children in Focus
Special attention has been given to the children's rooms. One room is decorated with vibrant colors and posters of movie and comic book heroes, while the other room is decorated with white furniture that will remain relevant as the boys grow.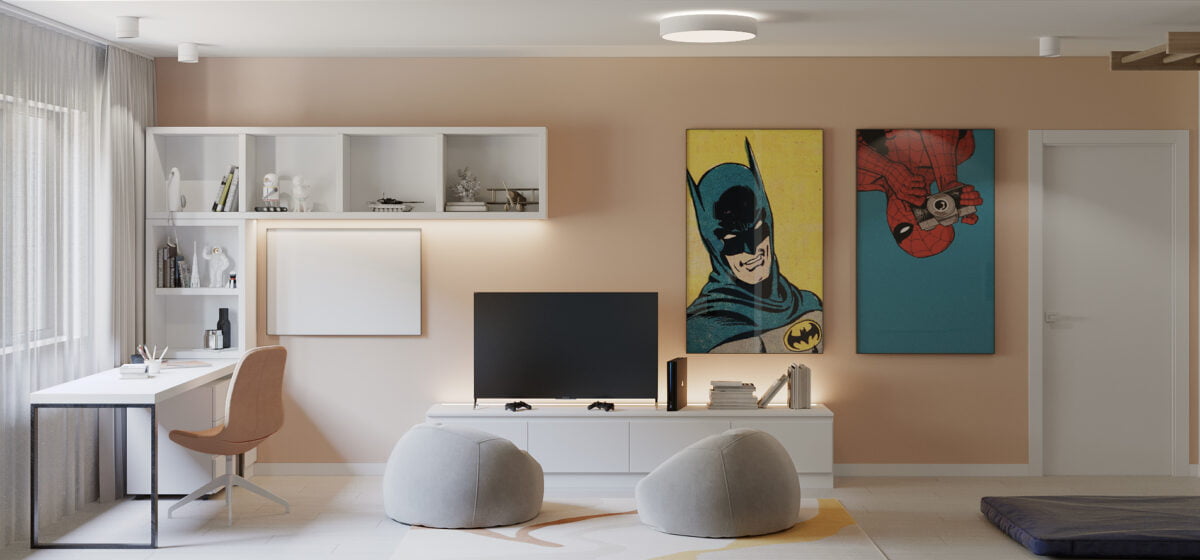 Both rooms have been thoughtfully designed to offer diverse options for play, learning, and relaxation. Sleeping space, a workspace, a reading nook – all are parts of a unique concept.